North Carolina Property Tax Sales:
Counties in 23 states offer foreclosed properties at property sales. At these sales, you can buy real estate for only the property taxes owed. Properties worth thousands of dollars can sometimes be purchased at these sales for 75% to 90% below market value.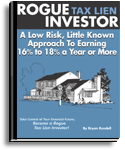 North Carolina does not have tax lien sales but it does sell properties at tax deed sales. Rogue Tax Lien Investor gives you an easy plan for buying property at foreclosure sales, often for pennies on the dollar.
Rogue Tax Lien Investor, is the only real estate investing product that contains detailed information on all 23 states that have tax deed sales. The Rogue Real Estate Investor Collection includes information on how to buy tax lien certificates, VA and HUD foreclosures, REITs and just about any other type of real estate investment.