North Carolina Tax Deed Sales:
Twenty three (23) states currently have tax foreclosure sales. An unknown real estate investing secret, at tax sales you can often purchase real estate for 50% to 90% below market value, often for only the taxes owed on the property.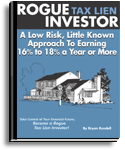 North Carolina does not have tax lien sales but it does sell properties at tax deed sales. Rogue Tax Lien Investor gives you an easy plan for buying tax lien certificates so you can safely earn 18% to 50% or more per year.
Rogue Tax Lien Investor, is the only real estate investing product that contains detailed information on all 30 states that have tax lien sales and all 23 states that have tax deed sales.