Vermont Tax Lien Auctions:
Thirty (30) states currently sell tax liens at auction. Following the annual auction, some states sell unsold tax lien certificates directly over the counter (through the mail in many cases).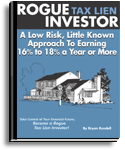 Rogue Tax Lien Investor gives you an easy plan for buying property at foreclosure sales, often for pennies on the dollar.
Rogue Tax Lien Investor, is the only real estate investing product that contains detailed information on all 23 states that have tax deed sales. The Rogue Real Estate Investor Collection includes information on how to buy tax lien certificates, VA and HUD foreclosures, REITs and just about any other type of real estate investment.