Charles Schwab, founder of one of the most successful financial companies in the world, had this to say about professional stock brokers (Guide to Financial Independence, Charles Schwab, Charles Schwab & Co., Inc. 1998):
"Although a lot of brokers wish it were otherwise (and work very hard and make a lot of money by convincing you that investing is magic that only they know), investing wisely just isn't that hard."

- Charles Schwab, Principal Owner/CEO, Charles Schwab & Co., Inc.
Charles Schwab, financial pioneer and champion of individual investors.
In an effort to empower individual investors everywhere, Charles Schwab founded Charles Schwab & Co. in 1974. Charles Schwab's pioneering vision was to give average Americans knowledge, tools, and an affordable way to guide their financial future. Eventually becoming a household word, Charles Schwab & Co. is a $350 billion financial services company founded by Charles Schwab that is dedicated to serving the individual investor.
If you can't trust financial professionals, what can you do?
First, you should realize that you have worked too hard to watch your savings stagnate, or worse yet disappear.
Second, you should realize that if you ever want to achieve the financial independence you deserve, you need to take action.
About 15 years ago, I found out how important it was to take action. After getting burned too many times trusting the advice of financial professionals, I started an exhaustive research project.
Determine how people get rich in America.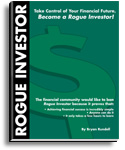 What I found was surprising and contrary to the advice of professionals. The most important information I can offer is that great investors often make their own financial decisions and follow very simple investment principles to achieve financial independence.
Successful investing follows common sense!
Rogue Investor is not affiliated with or endorsed by Charles Schwab, but we are big fans. Charles Schwab is a registered trademark.