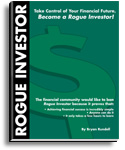 The Motley Fools agree that if you want to succeed as an investor, you should take control of your financial future.
---
"Money Managers don't generate high commissions by telling their clients that equities (stocks) investing is easy, that the stock market is fueled by logic, that any Fool (You) can do better than the majority of the umpthousand mutual funds peddled today."

- David and Tom Gardner
The Motley Fool Investment Guide
---
Like the Fools, I also believe that achieving financial success is simple. In fact, follow their story:
Motley Fools Beat Professional Investors
David and Tom Gardner have proven that investing success follows incredibly simple concepts and is more dependent on you taking action than anything else. At less than 40 years old, they have made a name and a fortune for themselves making their own financial decisions. Their foolish stock portfolios have routinely beaten the S&P 500, thus proving that with a little knowledge and conviction you can do much better making investment decisions on your own than most mutual funds could ever hope to accomplish.
Rogue Investor is not affiliated with or endorsed by The Motley Fool. The Motley Fool is a registered trademark of The Motley Fool, Inc.